Silhouette Soft Threads
Silhouette Soft Threads – 21st Century Face Lift Without Surgery
Silhouette Soft is a technological innovation offering women and men what no treatment has ever provided in such a simple and minimally invasive way: a reshaped face and restored volume by means of a 30-minute treatment at the Erme Clinic.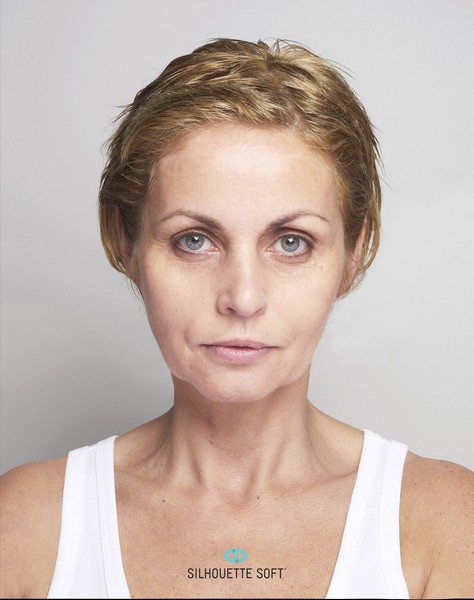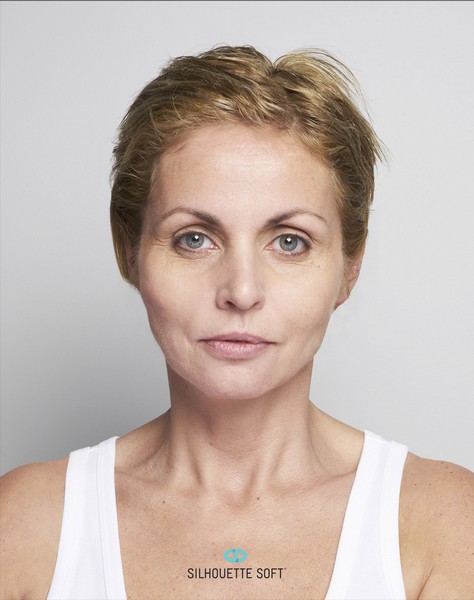 This technique leaves no scars and can be successfully used for all areas of the face and neck resulting in a fresher and younger look. Recovery time is minimal and patient can quickly go back to their full social life.
Silhouette Soft comes in the form of resorbable suture with resorbable bidirectional cones.
One Treatment Two Actions
1. A lifting action as soon as Silhouette Soft is applied for an immediate and discreet result.
2. A regenerative action, as Silhouette Soft promotes the restoration of lost collagen, providing thus gradual and natural looking results
Ageing causes loss of skin tone causing sagging of facial contours and the appearance of wrinkles, fine lines and creases. This worsens with advancing age and the menopause, and is due to the loss of collagen, the protein found in all structures of the body, especially the skin, and which ensures the cohesion, elasticity and regeneration of tissue. The face also loses fat (becoming more skeletal looking), becoming hollow on the sides, and heaviness accumulates under the chin, and the lower cheeks.
It is made in the United States and has FDA clearance .Its development was based on six years of experience in suture suspension with cones used in reconstructive surgery and cosmetic surgery. In 3 years, more than 130 000 treatments have been carried out all over the world. Now the process has a firm foundation with excellent results Dr Harker is performing this procedure at the Erme Clinic. She has received specific training for this procedure
No special preparation is required prior to Silhouette Soft treatment. If you are interested in this treatment please phone or email the Erme Clinic for a call back on 01752 922021 or info@ermeclinic.co.uk to discuss your expectations and ask Dr Harker any questions you have. Dr Harker will need to be informed of your medical history and any treatment you have already received and of any medicines you are taking. She will then arrange to examine you to check you are suitable for this procedure and go over in detail with you the procedure. This is not a permanent face lift; the effects will last on average 18 months.
This skilled procedure with the highly specialised Silhouette Soft threads is affordable. A Silhouette Soft thread lift for face for example using 10 threads is £2250.

After a small local anaesthetic, Dr Harker inserts the suture under the skin to a depth of about five millimetres.

No incision is required, as the suture is inserted using a fine needle. It is held in place with resorbable cones oriented in opposite directions (bidirectional).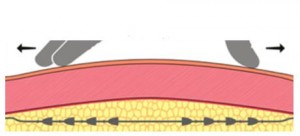 Once the suture has been applied, Dr Harker performs slight compression of the tissue to reshape it by hand and to obtain the desired lifting effect. The non-inserted ends of the suture are cut off. One or more sutures may be applied, depending on the patient and treated area.
After the treatment, a slight oedema or bruising may occur. Sometimes, a slight depression or skin irregularity may appear at the entry points. These inconveniences disappear a few days after treatment. Dr Harker will prescribe an antibiotic cream to apply on the entry and exit points of the sutures .Exact post procedure instructions will be given and follow up arranged.
To give you a better idea, the promotional video from Silhouette Soft introduces and takes you through the procedure performed on Gillian Taylforth, when she had it done for the first time.
* Results may vary from person to person.
Frequently Asked Questions
How does it work?
Silhouette Soft is made from resorbable polylactic acid sutures, which dissolve to help stimulate your skin's own collagen production. The threads are inserted under the skin using a needle (without any incisions), to elevate the sagging tissue in problem areas.
Local anaesthetic is used at the entry and exits points. Once they have been inserted the skin can be compressed and reshaped to obtain the desired lifting effect.
How long does it last?
Results can be seen immediately after the treatment, and the rejuvenation effects will begin to be seen after 3 months. The results last over 18 months, driven by the collagen stimulation around the suture and cone structures.
Is it safe?
Silhouette Soft is a safe, minimally invasive treatment to be used by a trained practitioner.
Are there any side effects?
Patients can experience minor pain, swelling and bruising, common side effects with any aesthetic treatment.
Slight skin depressions or tightness can occur for a few days following the treatment, but these are typically short lived.
What is the recovery period?
The downtime for a Silhouette Soft treatment is minimal. As with other cosmetic procedures, you may experiencing some mild bruising or swelling, and are back to work within 2-3 days. Some patients may experience some side effects slightly after this period, but generally full recovery occurs by 2 weeks.
What aftercare is required?
There are a variety of post-treatment recommendations to aid in recovery and improve results;
Apply a cold pack immediately after procedure if required
No make-up should be worn for the first 24 hours
Sleep face up, elevated on pillows (3-5 nights)
Your physician will provide a more extensive guide during the consultations.