THREAD LIFT SPECIALIST CENTRE- THE ERME SKIN CLINIC
Do you feel your lower face is becoming jowly? Your appearance is spoilt by a drooping jaw line?
Many men and women over 40 feel this applies to them, but now, you can easily do something about it: – with a thread lift!
The Silhouette Soft thread lift is becoming an outstanding success and is affordable. Please look at the section on the website for details and se
e a video clip of the actress Gillian Taylforth having it performed.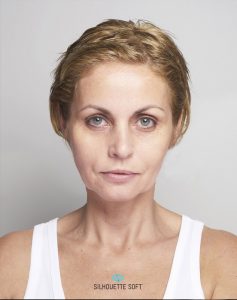 Basically, PLLA (polylactic acid) threads with bi-directional PLGA cones (polylactide Glycolide) are passed just under the skin using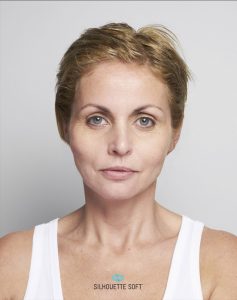 local anaesthetic. There is an immediate lifting effect due to the threads, and then, over the following months the cones stimulate new collagen growth. It is possible to lift the lower face, the neck and the brows using this procedure.
The Silhouette Soft system is completely resorbable and biodegradable and lasts from 18 months to 2 years. It just gradually degrades with no sudden endpoint and it is perfectly possible to repeat it if wished.
The Silhouette Soft lift involves far less risks as it is local  anaesthetic only, it is only minimally invasive, virtually no down time and a fraction of the cost of a surgical face lift.
Dr Harker can chat on the phone to check whether a thread lift might be suitable for you, then arrange to see you and give an honest opinion of how much you could benefit from the thread lift procedure. There are some patients for whom the procedure is not suitable and Dr Harker will advise what other treatments could help.
She has been a doctor for 37 years and still works in the NHS as a GP and in an NHS hospital in the Skin Cancer clinic. She has been specialising in Dermatology for the past 17 years.
Dr Harker performs minor operations under local anaesthetic for seborrheic warts. Skin tags, cysts, moles that have been diagnosed benign but not treatable on the NHS, as they are deemed clinically insignificant.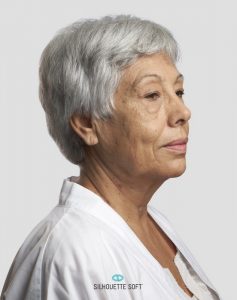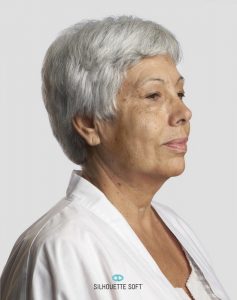 Also wrinkle relaxing injections (commonly known as Botox), soft tissue fillers, treatments for acne such as Peels and Dermaroller.
Dr Harker can deal with many little skin problems; please see the website for details.
www.ermeclinic.co.uk or email us at info@ermeclinic.co.uk and leave a contact number if wishing a call back.
Or phone 075 302 544 05 to make an appointment